WordPress Websites
We're one of the UK's leading WordPress agencies, providing affordable WordPress design and development services.
We're rated great on Trustpilot by our customers
Our WordPress services
Expertly created websites, plugins and themes created by people that go above and beyond every time to help your business get the best results it possibly can.
Brochure Websites
We're experts at making beautiful WordPress websites that look amazing, load super fast, and are easy to manage. With over 14 years combined experience, we create your website based on your requirements, making it totally unique to what you want.
Ecommerce Websites
As one of the south's best integrated ecommerce website developers, we can design, develop and maintain your store. We can integrate your WordPress website in to the most popular third-party apps including Ebay®, Amazon®, Post Office®, DPD®, PayPal® and more.
Plugin Development
Whether your website needs to integrate with another website or a third-party API, we can research, develop and maintain custom plugins which power your WordPress websites critical functionality. We adopt best code and security practices, keeping your site operational.
WordPress agency
As a specialized WordPress agency, our expertise lies in strategising, creatively designing, expertly developing, and supporting high-performing websites that drive tangible business growth for our clients.
Each of our WordPress websites is crafted to suit your unique needs, ensuring a solution that aligns perfectly with your goals. Our portfolio encompasses everything from elegant brochure-style sites to expansive corporate web platforms and e-commerce stores.
Benefits of our WordPress websites
Bespoke design
All our websites are designed to your requirements. We design your website with your needs and customers in mind, ensuring it looks great for years to come.
SEO optimised
Our websites are fully SEO optimised and aimed to help your business grow across Google, Bing and other search engines with our tailored SEO services.
Content writing
Our talented team of content writers can work with you to write all content for your website. We research, plan and execute a content plan for your new website.
Fully responsive
Mobile-first web design is key to your businesses success online. Your website will look great across all devices including mobiles, tablets and laptops
24/7 technical support
All our customers get access to our dedicated customer support. We also offer 24/7 reactive support for customers that need extra support.
Manage your website
With a website from Find Digital, you can manage your website yourself. Manage content, imagery and custom features easily with our content manager.
GDPR ready
All websites we design are fully compliant with GDPR regulations. We work with you to ensure compliance is met, giving you peace of mind.
Free SSL certificate
Every website from Find Digital receives a free SSL certificate worth £65 per year when the website is hosted with us, keeping your site safe and secure.
Advanced security
Using the latest and toughest security solutions, we secure your WordPress website, ensuring your websites data remains safe and secure.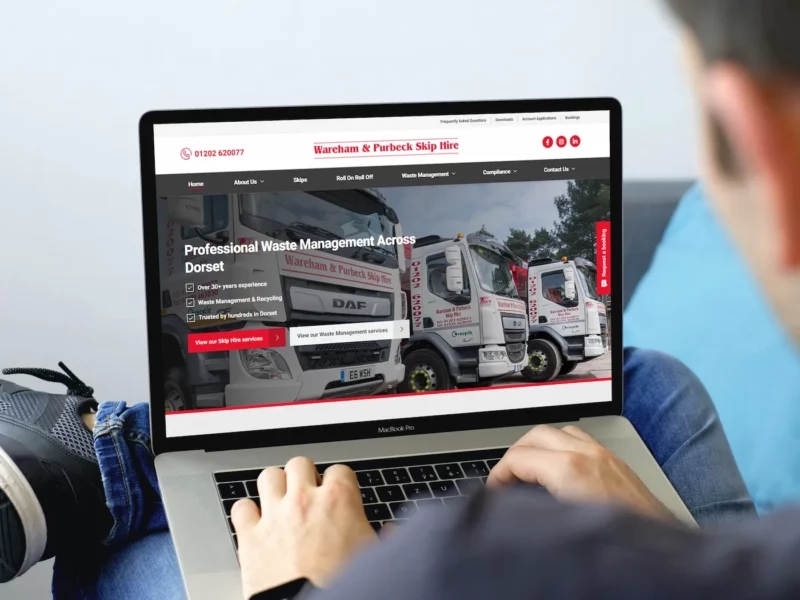 Responsive website design
Your WordPress website needs to be responsive. With over 50% of your website visitors now using a mobile device, it has never been more critical.
It's essential that your users have a consistent experience with your website no matter what device they use. As a web design agency, we carefully consider how designs look and how easy and intuitive they are to navigate on the myriad of devices available.
Serious about SEO
From the initial wireframes and site structure to the design and eventual build, we bring important SEO considerations into every stage.
It's no longer enough to just publish content on your site in the hope it ranks in the search. Structure and internal linking play a huge part in helping Google to understand your content.
We'll get your SEO right for launch and help you to maintain your existing rankings and win new keywords that will bring more business enquiries.
Content management
Struggling with formatting and incorporating content into your website? Our unique design and development approach is here to rescue you, ensuring effortless content management.
We specialize in crafting tailor-made post and page templates, meticulously aligned with your specific content requirements for your website.
This empowers you with a diverse array of 'modules' to piece together your web pages, streamlining the process of content addition, rearrangement, and upkeep.
Why choose us?
We're a local digital agency providing web design services across Hampshire and the surrounding areas. We take pride in the websites we design, giving our best to every project worked on.
Fair pricing
We know that keeping costs low and quality high is at the heart of your business. We strive to provide our web design services at a fair and affordable rate for all businesses.
No hidden fees
Unlike a lot of digital agencies in Hampshire, we're set on being transparent and honest. We let you know of any costs upfront, ensuring you know what your paying for in advance.
Dedicated support
Our web design team is on hand to help you and your Hampshire business, whenever it needs it. Whether its via phone, email or in-person, we are here and ready to help.
WordPress is a popular content management system (CMS) that allows you to create and manage websites easily. It's highly customizable and widely used for blogs, business websites, e-commerce stores, and more.

Why should I choose WordPress for my website?
WordPress offers a user-friendly interface, a wide range of themes and plugins for customization, and great SEO capabilities. It's suitable for both beginners and experienced users.

Do you use pre-made themes or create custom designs?
We can do both. We can customize pre-made themes to match your branding or create a completely unique custom design based on your requirements.

Can you redesign my existing WordPress site?
Yes, we can redesign your existing WordPress website to give it a fresh and modern look, improve its functionality, and enhance user experience.

What is the approximate timeline for creating a WordPress website?
The timeline varies based on the complexity of the project. A basic website might take a few weeks, while a more intricate site could take several months. We'll provide you with a detailed timeline during our initial consultation.
Let's work together
We'd love to have a chat about how we can help. Fill out the form and a specialist will get back to you shortly.
"*" indicates required fields