Managed Web Hosting
Explore our managed web hosting solutions for businesses. With server management, disaster recovery, and migrations, we're your ideal team.
We're rated great on Trustpilot by our customers
Our managed web hosting services
We are a fully-managed, UK-based managed hosting provider with a real passion for technology.
Dedicated Servers
Keep your sensitive data secure while achieving maximum performance on our dedicated servers. Whether you require an off-site, on-site or cloud based dedicated server, we can help.
Managed Private Cloud
Stay competitive while enjoying optimal performance in a controlled, dedicated cloud environment. Our private cloud hosting solutions are ideal are businesses needed high-end, private performance.
Managed Cloud
Having resilient, purpose built disaster recovery strategies in your business are key to success. We help you plan, implement and execute disaster recovery processes across your infrastructure.
Managed Security
We understand that security is the foundation of every successful business. That's why our experts provide continuous protection for your website or application with our range of security services.
Managed Backups
Keeping your data safe and backed up is essential.Backups help mitigate downtime and reduce data loss with our managed backup solutions. Backup to the cloud or to an on-site location of your choice.
Disaster Recovery
Having resilient, purpose built disaster recovery strategies in your business are key to success. We help you plan, implement and execute disaster recovery processes across your infrastructure.
Managed web hosting for businesses
At Find Digital, we understand the critical role that technology plays in your business. Whether you are a small startup or a large enterprise, having reliable managed web hosting is essential to keep your online operations running smoothly.
Our team of highly skilled professionals is here to provide you with comprehensive support and solutions tailored to your unique web hosting needs.
Benefits of our managed web hosting
Reduce downtime
We all know how bad downtime can impact your business. Our managed web hosting solutions bring 99.9% uptime to your business with industry leading SLAs.
Improved loading times
Utilising industry leading technology from our partners and vendors, we bring hyperfast loading times to our clients while ensuring you avoid large costs.
Fully managed
We take care of all your hosting and server requirements so you don't have to. Our experts can recommend, implement and manage your hosting environment.
Competitive pricing
We aim to bring hyperfast, hyper-reliable managed hosting to businesses at a highly competitive rate. We procure the best in reliability at the best cost.
Robust SLAs
Our managed web hosting customers have a robust SLA which meets common business standards. Additional SLAs are also available for unique requirements.
Proactive mitigation
As part of our SLA processes, we utilise leading monitoring software and reduce risks by monitoring and actioning any potential threats that may arise.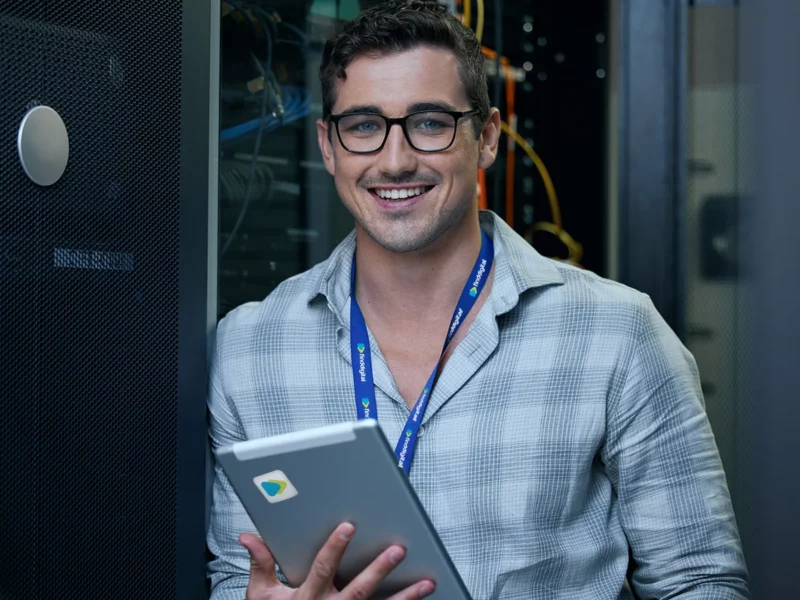 Your web hosting partners
We offer a range of managed web hosting services, including server maintenance, security monitoring, and performance optimization. With our expertise, you can rest assured that your website will be secure, fast, and accessible to your customers at all times.
Whether you need assistance with setting up a new website or optimizing an existing one, our team is ready to assist you every step of the way. We understand that every business is unique, and we will work closely with you to ensure that your managed web hosting solution aligns with your goals and requirements.
Cost-effective & fully managed web hosting
Our cost-effective managed web hosting services offer an exceptional solution for businesses seeking reliable and affordable hosting solutions. With our comprehensive package, we ensure the smooth operation of your website while minimizing expenses. Our team of experienced professionals takes care of all technical aspects, including server maintenance, security updates, and backups, so you can focus on your core business activities.

How much does a website cost?
The cost of a website can vary widely depending on several factors, including the complexity of the design, the features and functionality you want, and the third-party integrations you need. Our website design services at Find Digital generally start from approximately £899 but we have designed and built lower cost websites for many clients. The best way to know how much your website will cost is to contact us and request a quote.

How long does it take for my website to be complete?
The time it takes to complete and launch your website design can vary but as a general guideline, we look at having your website ready to launch within 3 months of accepting a quote from us. This does depend on response times, technical requirements and the size of the website in question, so it's always best to get a quote and we'll let you know how long it will take.

What sets Find Digital apart, and why should I choose your agency for my digital needs?
There are several reasons why hiring Find Digital can be advantageous for your business. Firstly, our agency brings a wealth of experience and expertise in digital marketing, IT support and more. We have a proven track record of delivering successful projects and achieving tangible results for our clients. Our team comprises skilled professionals who stay updated on the latest industry trends and best practices, ensuring that your business benefits from cutting-edge strategies. We are dedicated to understanding your unique goals and tailoring our services to meet your specific needs. By partnering with us, you gain access to a trusted digital agency partner who is committed to your success and growth.

What types of businesses do Find Digital work with?
Find Digital is open to all businesses, no matter their size. We're very lucky to work with a wide range of businesses that are fully flourishing or just starting out. It's this diversity of our portfolio that makes us a seasoned, reliable and forward-thinking digital agency.
Need IT support?
Call our team today on 023 8098 0692 and we will be able to provide advice and support.
Get a free consultation
Book a free consultation here and see how our team at Find Digital could transform your business.
Services down?
Call our emergency line now on 023 8098 1819 and our team will help you get your services back up and running.